10 reasons why you should select Pathao for your daily transportation needs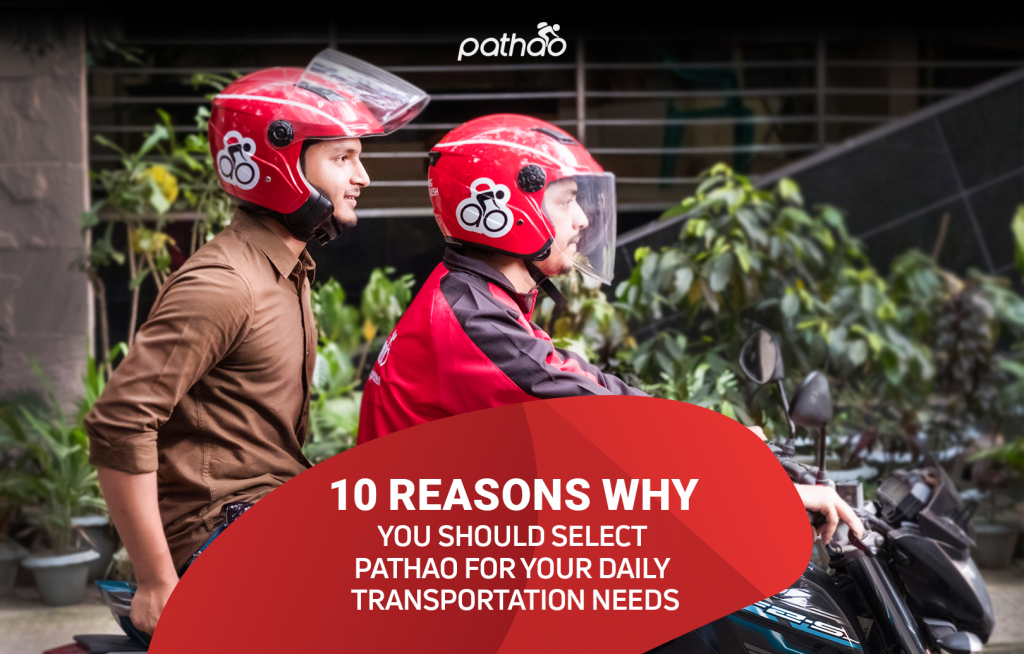 Pathao has been boldly redefining the way people move in Bangladesh, and more recently Nepal. Every single aspect of our rides, whether it is cars or bikes, is tailored to meet the demands of our users and make journeys safe and fast. Here are 10 reasons why Pathao is the right choice for your everyday transportation needs!
Beat Traffic
Pathao helps you beat the terrible traffic of Dhaka city. With almost 20 million people living in greater Dhaka, it is the densest city in the world. It is also home to the most widespread traffic jams in the world. Pathao Bikes make sure that you no longer have to be stuck in traffic. When ride-sharing with Pathao, you can zip through traffic and reach your destination in no time.
Affordable
Reaching your destination should not burn a hole in your wallet. Ride-sharing with Pathao is very affordable. It is also more comfortable than CNGs and busses. Pathao's ride-sharing services also help save time, making it easier for you to beat traffic and get more done. No longer will you have to wait in a queue to get on a bus or stand by the road for half-an-hour to hail down a CNG taxi. Using the Pathao app will result in a smoother, more pleasant experience.
Save time
Dhaka is home to the slowest traffic in the world, averaging about 7 kilometers per hour. Speed of life is very sluggish in Dhaka because of this. However, in our platform, Pathao ride-sharing users move much faster with an average speed of 16 kilometers per hour. This speed helps them live life to the fullest, grabbing opportunities as they come. They get more done in a much shorter time. Ride-sharing with Pathao is one of the best ways of saving time in Dhaka.
Safe
Pathao rides are incredibly safe. All vehicles have to be registered before they can use the app for ride-sharing. Drivers need to have proper driving licenses, which are verified. We also value the physical safety of our users, which is why we have given out helmets. We also have emergency number dialing built in, and you can always share your ride details with friends and family through the app.
If you share your location, your friends and family can quickly check your ride status online, making Pathao one of the most reliable and safe methods of transportation in Dhaka.
Digital Payments
If you do not want to carry cash with, you do not have to anymore with Pathao! You can use your credit or debit card to pay when ride-sharing and also for food. And if you are using digital payments, you can seamlessly connect and pay with Bkash or iPay. You can also pay with your credit or debit card.
Digital payments make sure that the transactions are hassle-free. You do not have to worry about carrying exact change any more. Digital payments are fast, simple, and the best way to travel with Pathao.
Discounts and promotions
Pathao also sends out exciting promotional offers and discounts to users. Additionally, we offer massive discounts often, so you can keep riding in style. Pathao also runs compelling promotional campaigns regularly, especially if you order food. Keep your eyes on the app for more details.
Live-location Tracking
Keeping your safety in mind, Pathao has built a straightforward solution that lets you share your live location with friends and family at any time when you are using our ride-sharing services. This feature helps you keep your keep peace of mind when using our ride-sharing services, even at night. It is just one click away when your ride begins, and it is a simple tap for your friends and family as well.
Insurance
Not only do we care about the safety of our riders, we care about your well-being. All our rides are insured. You can keep traveling with peace-of-mind, knowing that you are safe when ride-sharing with Pathao.
Emergency 999 Calling
We understand emergencies can arise at any time. That is why we have built a one-click solution to call 999 emergency services directly into the app. There is simply no need to dial a number in your phone in tense situations. Click the Emergency button, and you will instantly be connected to the police, fire department, and other emergency services.
Rating system to give feedback
We understand the value of an enjoyable journey. That is why we ask our users how their experience was at the end of the ride. We ask them to rate the driver between one to five stars, with five being the best. This form of mutual rating is the best as it ensures both our riders and passengers understand the value of a pleasant experience.
We follow up with poor ratings very carefully. If a rider or captain keeps getting bad scores, we follow up and try to improve the situation. If things don't improve, we look into more strict steps.
That was 10 of the most important reasons why Pathao is the most fitting choice for your daily transportation needs. So, what are you waiting for! Download The App Now, and make your daily transportation convenient and comfortable.
Also check out Pathao Food, our food delivery services for speedy delivery with the highest number of restaurants. Additionally, if you are a merchant, you can check out our amazingly competitive Pathao Courier and sign up your business for our delivery services.