How it works
Whether you're just starting with us or you use Pathao daily, you can rack-up points and benefits at each membership level.
Earn Points for Every Order
You earn 1 point for every 10 taka you spend on Pathao Ride or Food.
Redeem Exciting Deals
Use your available points to redeem exciting deals of your choice.
Unlock Benefits at Every Level
Higher points mean higher levels and more exclusive benefits.
How to Join
Update your app to join Pathao Points. You'll be enrolled at no cost, starting at Bronze level (depending on your purchase history). Earn 1 Pathao point for every 10 taka spent on the Pathao platform. For example, a 150tk car ride will earn you 15 points.
Earning points will help you increase your level. Your tier will grant you access to in-app perks, discounts, and exclusive in-store deals with our Partners.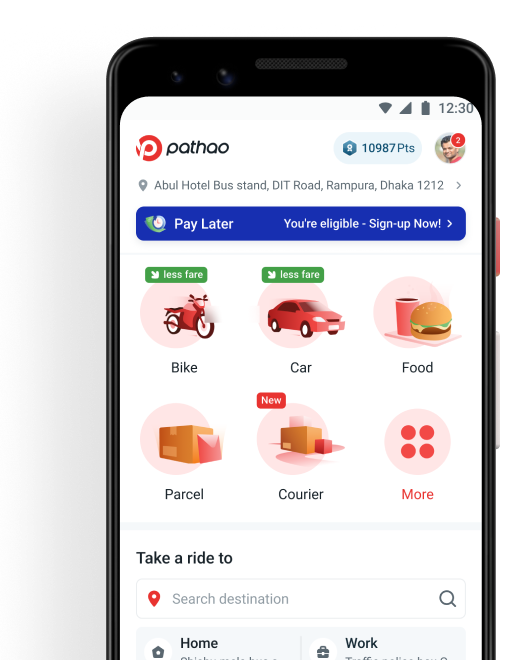 Benefits of Pathao Points
1

Earn points with every eligible ride and food order

2

Redeem points on in-app deals, which can be used for discounts on future Pathao orders

3

Access special benefits, such as discounts at popular restaurants and fashionable brands

4

Unlock exclusive in-app perks
How to avail Benefits
Follow the below given steps to avail the benefits of Pathao Points:
1

Visit the Pathao Points page in-app to view available benefits

2

When at a partner store, use the 'Scan QR' function in Pathao Points to scan the QR code at checkout

3

For a discount benefit, enter the total transaction amount into the app and tap 'Get Discount'

4

For a general benefit, simply scan the QR code and follow the on-screen instructions

5

Both you and our Partner will receive a confirmation that you are eligible for the benefit. Please show the confirmation screen to the vendor, and enjoy your exclusive benefit!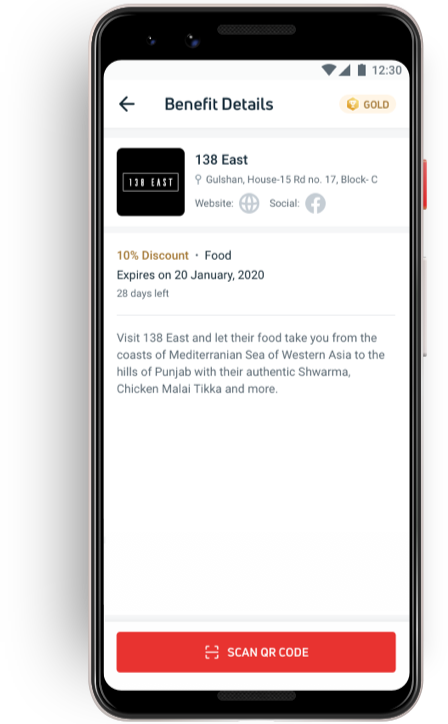 Frequently Asked Questions
Pathao Points allows you to earn points by taking our services and receive rewards based on your usage.
As a Pathao Points user, you will receive rewards such as exciting Deal packages and Benefits. The more you use Pathao, the greater the benefits you will earn.
You can earn points by taking a ride or ordering food on our platform. You will be awarded 1 point for every 10 BDT you spend on our services.
Yes, but you will be awarded points based on your discounted fare. If your fare was 120 BDT and you had a discount of 20 BDT, you would only earn points for 100 BDT.
You can redeem your points for exciting rewards such as : Deals - Discounts on your Pathao rides and orders. Benefits - Discounts in our partner restaurants, shops, lounges, etc.
Pathao Points has 4 levels - Bronze (0 - 199), Silver(200 - 999), Gold (1000 - 6999) and Platinum (7000+). You will be a Bronze user and have 0 points, to begin with. As soon as you earn enough points to get to the next level, your level status will change immediately.
You can only avail of a deal if you have enough points for it and if it falls at your current level.
Available Points are your net adjusted points (earned - spent) which shows how many points you currently have to purchase deals.
All deals have a validity. Please check the deals in your Pathao app from time to time to avoid missing out on your tier offers.