Pay at Your
Own Pace
Pay when you're able. We track your spend so you don't have to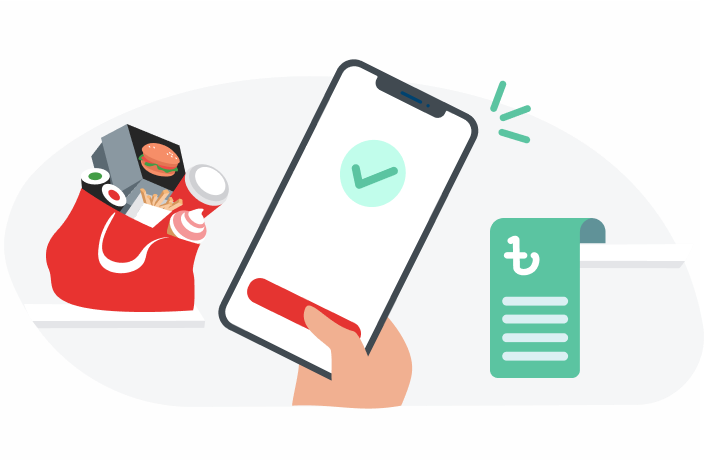 Pay in Just
One Tap
Pay without the hassle.
Say goodbye to panicking
at checkout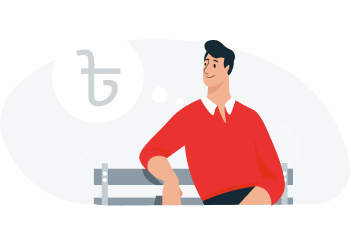 At No
Extra Cost
Pay us back within 30 days
at no extra cost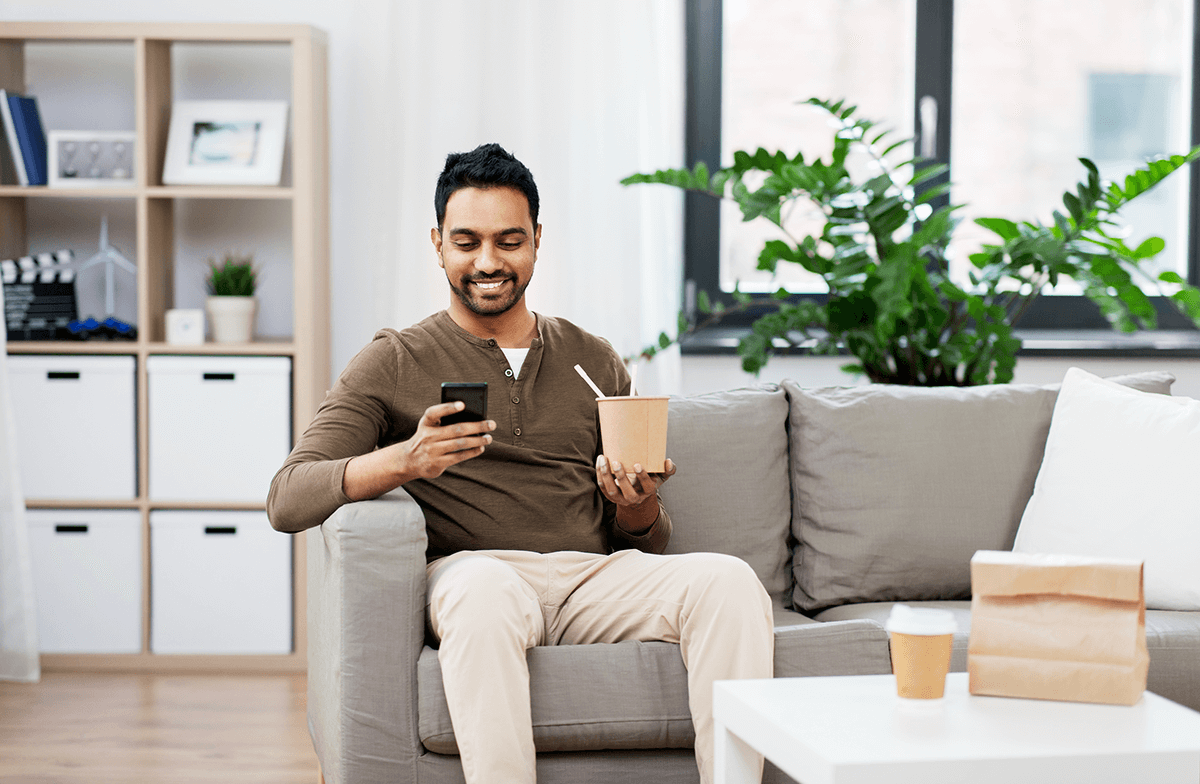 Save time and pay later
Payments on your own terms. Order from Pathao food in one tap, and pay your dues within 30 days.
Full transparency
Access your due limit in seconds. At no extra cost if you pay on time - we promise.
How it works
After signing-up, you instantly get a due limit to spend. Use your limit to order food in one tap at checkout.

Spend for 15 days, pay us back within the next 30 days.

Want a greater limit? Spend more on Pathao and pay us back on time!

A late fee will be applicable only if you don't pay on time. Visit our FAQs or our terms and conditions for more details.
View FAQs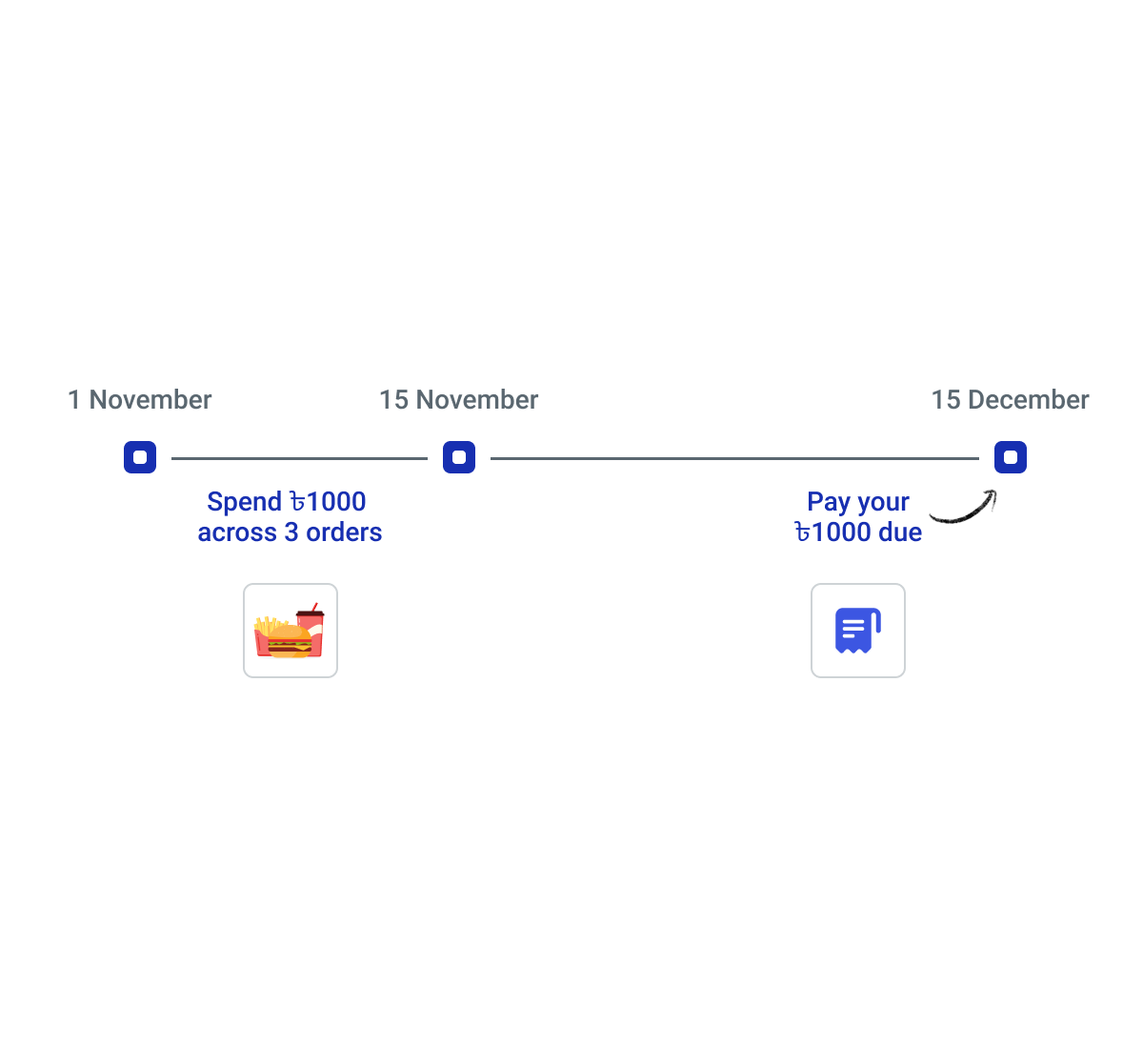 Get started now
Select "Pay Later" at checkout. One tap, that's it.
Pay your dues in your own time. View your dues by visiting "Pay Later" from the platform page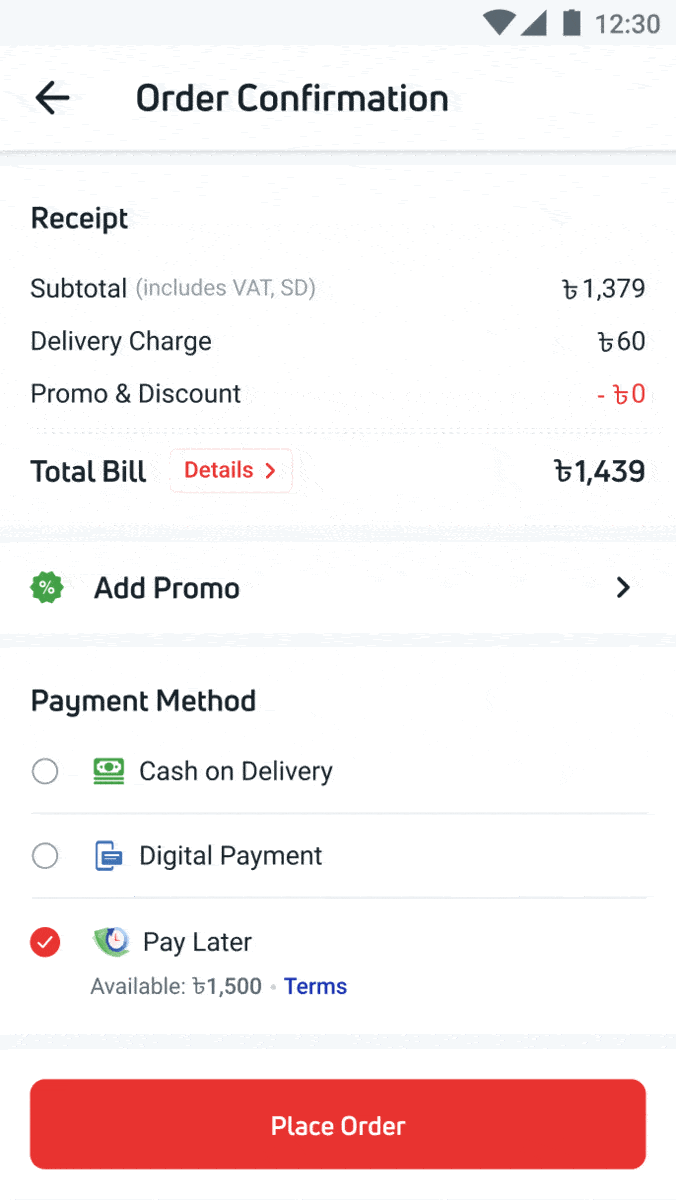 Frequently Asked Questions
Pay later for food is a special perk offered to an exclusive set of Pathao customers. Users can order food from Pathao in a single tap, with no upfront payments, and can pay us back within 30 days Pay smarter, pay later.
No, if you pay on time, you don't have to pay anything extra to use pay later. However, if you pay late, a late fee will be applicable.
We use 15 day due periods. All transactions made between either the 1st of the month and the 15th, or between the 16th and the end-of-the-month, will be added together into a single combined due.

This due will then be payable within 30 day. For example, if you spent ৳2000 over a few meals between the 1st to the 15th of September, you will receive a ৳2000 due payable before 15th October.
Late fees and blocking
No worries! That's we give you a grace period of 3 days to pay back your dues after the stated due date.

However, if you still haven't paid back your dues, you will be blocked from using all Pathao services until you pay. In addition, a flat one-time fee of 10% on your due will be applied, capped at a maximum of ৳250. We apply a late fee separately for each due, so if you go overdue on several dues, the late fee applies to each due.

To illustrate:
- If you have a ৳2000 bill, you are charged 10% x ৳2000 = ৳200
- If you have a ৳3000 due, the late fee is 10% x ৳3000 = ৳300, but we cap it at ৳250

We will always be upfront with you about your late fees for each due. We'll also give you ample warning that late fees will be applied. If exceptional circumstances are hindering your ability to pay back your dues, please get in touch with us, and we'll do our best to support you however we can.

Your due limit
Unfortunately, if you display a recent history of late payments, we will decrease the due limit that you have available to use on food purchases. To increase your due limit again, continue to pay your dues (ideally early!), and you'll get back your due limit in no-time!
Anytime. You can instantly repay your dues at any point using a range of digital payment services. Just go to the "Pay Later" widget, click "Dues", and follow the on-screen instructions.

Remember to pay on time to avoid late fees. If you pay early, you will get priority access to higher due limits!
Your due limit is personalized to you, and we review it regularly to ensure it meets your needs. To increase your due limit, consider doing the following:

a. Purchase more through Pathao, ideally by paying later for food orders.
b. Ensure you have a valid digital payment method (e.g., BKash, cards) connected to your Pathao account.
c. Try to pay dues as early as possible and avoid paying late.
d. Maintain a good standing on Pathao by avoiding fraudulent activity.
Right now, you can only pay later for food transactions.
Firstly, we're super excited to hear that you're keen to use PayLater! To become eligible, please do the following to become eligible:

a. Register interest on our waitlist: Opt-into the PayLater waitlist through the PayLater tile in the Pathao App. You can also pre-register for PayLater, which will increase your priority in the waiting list!
b. Continue using Pathao services: Take a few rides around the city with a Pathao Car, or order a meal to treat your special someone through Pathao Food. Our most loyal customers get priority access!
In a rare few cases, we're not able to onboard certain users even though they were originally marked as eligible for paying later.

Most of the time, we will let you know why we're not able to onboard you. Typically, you will be made eligible over time - you might just have to wait a bit longer! Keep using Pathao services to increase your position on the eligibility waitlist.

If you still have questions or concerns, do not hesitate to contact support.
Easy as pie! Open-up the Pathao app, select the "Pay Later" widget, go to "Transactions", and you'll find a full history of your transactions and dues.
We believe in being fully transparent about how this feature works. We'll send you every detail about any changes, and how it may impact your experience with paying later. We'll always make sure we are transparent in the Pathao app.

No legal jargon, no hidden fees. We promise.
Support
Sorry to hear that your experience with PayLater was not up to the mark! You can reach us by email at
[email protected]
or by phone at
09678100800
. We're open 24/7, so do not hesitate to get in touch!
Feedback
We're eager to hear from you! Do reach-out to us with any feedback on Pay Later at
[email protected]
or by phone at
09678100800
. We're looking forward to hearing from you!