Pathao Shop গরুর বিরাট হাট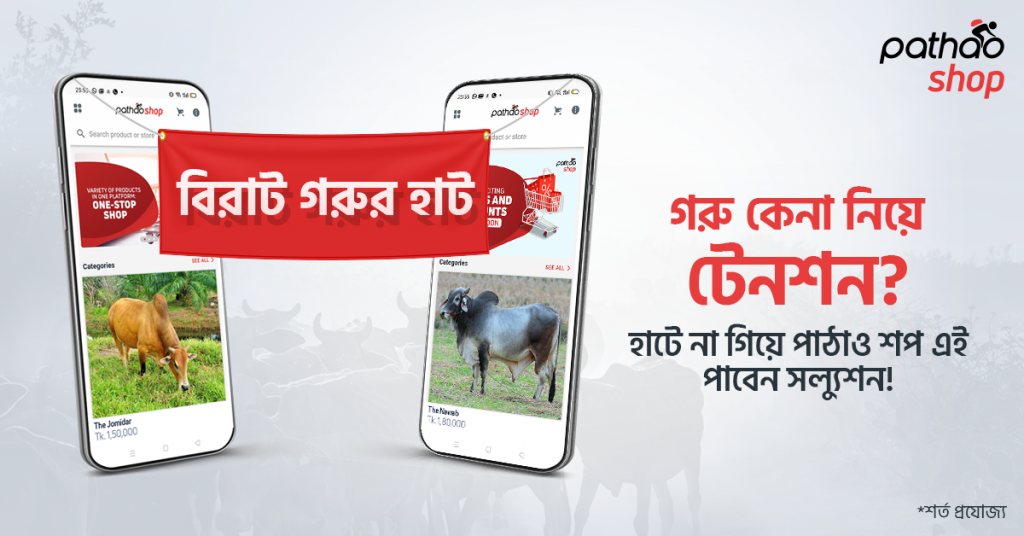 This Eid-Ul-Azha, Pathao brings you গরুর বিরাট হাট, your most reliable digital gorur haat at your fingertips. It's only a few clicks away! Open your Pathao app, and go to Pathao Shop!
The Pathao Gorur Birat Haat is an end-to-end solution to this year's Eid, where you buy the cattle from our trusted and verified partners, the cattle is slaughtered, processed and finally, the processed meat is delivered the same day of slaughter. It's simple, and it's safe!
Halal method of slaughtering on the 1st, 2nd and 3rd day of Eid
Maintains clean,hygienic and strict Halal Qurbani guidelines.
Safe delivery at your doorstep on the same day of Qurbani!
Option to see live or recorded video of Qurbani
Option of donating a part of your Qurbani through Uthbo Ami Jege Foundation
Book your cattle by paying only 20% of the cattle price (non-refundable).
Pay the rest digitally or through bank transfer!
Please note that the cattle you purchase will be slaughtered and processed in our Partner's farm and we will deliver you the meat and other parts on the same day.
Process of placing your order:
Open your Pathao App and click on Shop
Tap 'SEE ALL' on the Qurbani Collection section
Choose your cattle from Pathao Cow Haat. After selecting your cattle, press 'ADD TO CART'
Select the delivery day
Choose if you want to see the video of qurbani
Select the percentage of donation to 'Uthbo Ami Jege Foundation', or you can choose not to donate as well
Confirm your order by selecting 'CONFIRM'
A representative will call you with all the details within the day. If you place your order after 10PM then you will get a call the next day.

So this Eid, you can stay home and stay safe, and let Pathao Shop make your Eid easier than ever before! Call 13301 for any other questions or assistance.

Terms & Conditions
All Cattle sold from Pathao Shop will be processed meat. The cows will be slaughtered, following strict Halal guidelines – and the processed meat will be delivered to the purchaser on the day that they chose.
The service is available only in Dhaka City.
The processed meat will be delivered on the 1st, 2nd and 3rd day of Eid-Ul-Azha.
Booking and full payment of the cattle will be closed after July 25th.
Only prepayments will be accepted. Place your order, and a Pathao Shop representative will call with further details on how to make the payment.
You can book your cattle by paying 20% and for confirmation the remaining balance needs to be paid within the next four days.
Your orders will be confirmed once full payment has been received.
The whole carcass will be chopped and delivered in crates
Red offal like Liver, heart, kidney, lung, spleen will be delivered separately.
Head meat, Paya, and Brain will also be delivered separately.
Bowels and inedible fat will be disposed of.
Cowhide will be donated to Uthbo Ami Jege Foundation.
In case of any unavoidable circumstance, Pathao Shop may change the date of the meat delivery.
After receiving the final delivery of meat, no complaints will be accepted.
During delivery, the buyer has to show the purchase receipt (in their app) and sign the Received form.
Refund policy: Qurbani Order cannot be cancelled once confirmed; no refund. Please make sure to check all cattle related information and terms before purchase.