Inspiring Stories: Jiniath Jahan Jini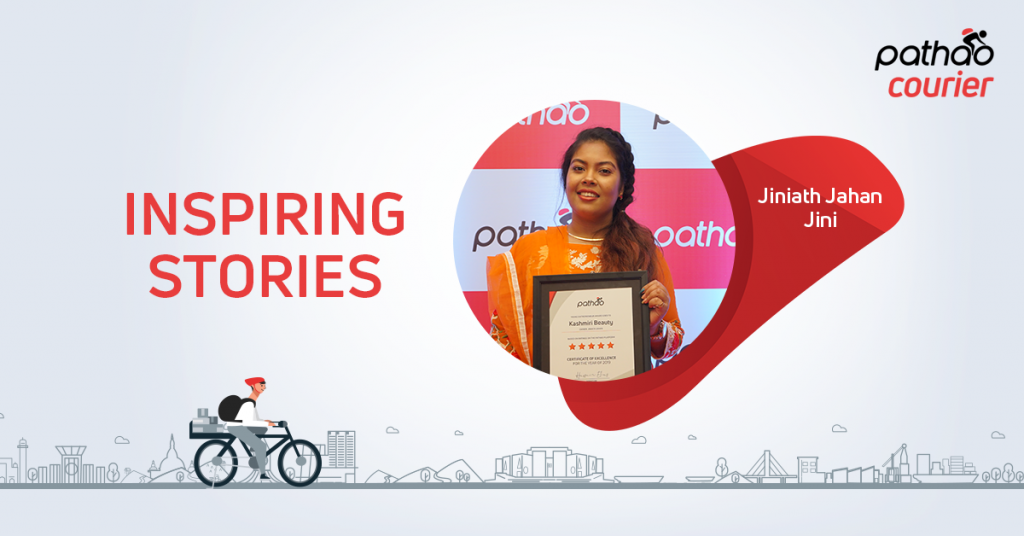 "Kashmiri Beauty by Jiniath" is a very reputed natural beauty products provider owned and run by Jiniath Jahan Jini. Their unique natural products, made from the purest ingredients from all over the world, are incredibly popular among her customers.

Pathao Courier has been working as a logistics partner with Kashmiri Beauty for a long time. Jiniath has been awarded as one of Pathao's top merchants in May 2019.

Jiniath shares her experience with her business and her journey as an entrepreneur.

"First and foremost, I like to consider myself as a traveler. I love everything about traveling, and my favorite thing in the world is trekking in the mountains. I love traveling very, very much.

During my traveling days, I realized that I could not hold a regular job. I could not wait for the holidays for my travels. That guided me towards starting my own business.

My dream of being an entrepreneur started in my childhood. Whenever someone asked me as a child what I wanted to be when I grew up, I used to say I'd become a businesswoman and win awards as an entrepreneur.

I started my business, "Kashmiri beauty by Jiniath" in 2017. The aim was to let nature nurture its purity into our lives. It's been one an half years, and things are only getting better.

I bring products from all over the world. For example, I bring Vitamin E oil from Egypt. From Israel, I bring dead-sea mud. Cocoa butter from Sri Lanka, etc. I also bring essential oils from Indonesia, Jafran from Kashmir and Chondon from Bangalore, India. I also import many kinds of powders, such as licorice, rose, wild turmeric, and all sorts of beneficial oils.

The ingredients we put in our products incredibly pure. The main goal of the business is to provide the best natural product to our customers.

Essential oils and their benefits are recognized in western countries. However, here in Bangladesh, it's a very different story. People know about one or two types of essential oils. The rest of the essential oils that I brought here were all new to the market.

Many of my customers didn't know much about these products either. When they learned about the benefits, they were delighted. I always wanted to bring something new to the market. And I love introducing amazing new products.

Being a woman entrepreneur has its challenges. Some people here think it's not a woman's place to handle something like a business – that it's better for a woman to focus on raising a family. I tune out the negative people, but they do try to make life difficult sometimes.

It is also rather challenging to get all sorts of license papers needed to run a business. Things often don't work out very smoothly. I also believe that if the government had a more accessible system in place for importing items from India, a lot more small businesses would flourish.

I am happy to have Pathao as my logistics partner. Online-based businesses like mine need a trusted and reliable logistics service for sending the products to our customers. Pathao has taken this responsibility, and I couldn't be more satisfied with their service.

Whenever any issues arise, I give suggestions or input, and Pathao is very fast to respond. I have experience with some other providers as well. If you have a lot of parcels to send out, then Pathao is the best option among them all.

One day I want my business to expand to all 64 districts of the country. I hope to build my brand into the top ayurvedic natural brand in Bangladesh. And I WILL win the award of being a women business icon!"

Kashmiri Beauty by Jiniath
Page link: https://www.facebook.com/Kashmiri-Beauty-By-Jiniath-442297419592617/