How Pathao Changed The Transportation Game of Bangladesh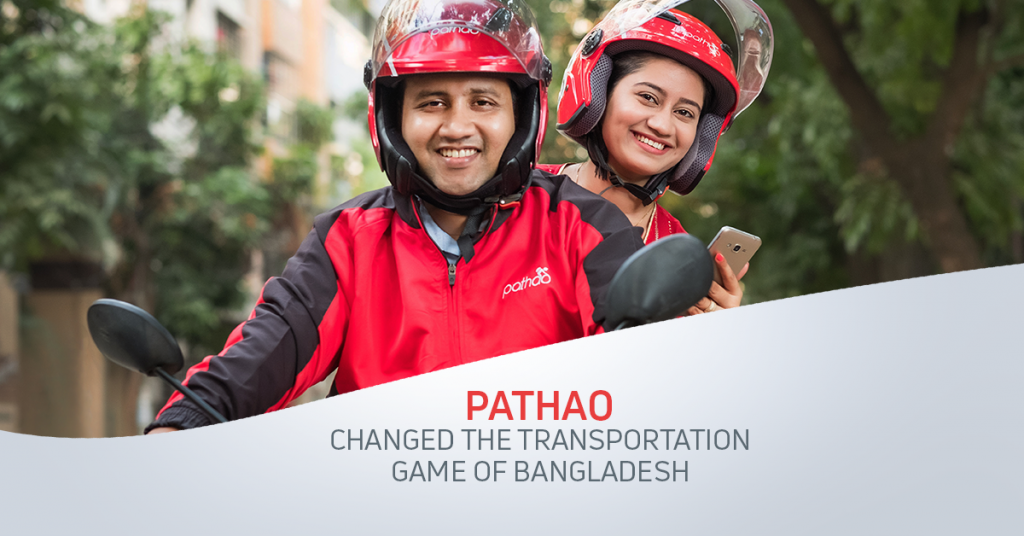 Do you remember the time when we used to wait on average 30 mins to go anywhere? I'm talking about the scene before Pathao. We had to wait for hours to travel around the city. Often the time would reach 2 to 3 hours. It was that time Pathao started its journey, with the vision of defeating the traffic of Dhaka for good.
There was a critical lack of good options.
CNG auto-rickshaws were the dominant form of public transport back in the day, and they were outrageously expensive. Not only that, people would have to haggle with the drivers and negotiate a fare before getting on the CNG. If anyone lacked excellent haggling skills, they would be ripped off by the aggressive drivers. Taxis? Those yellow vehicles were scarce: one could say almost non-existent.
As for buses, the experience was truly horrible. Dhaka's buses are uncomfortable, hot, and very crowded. Getting on one is a painful experience. You would have to stand in the heat, waiting for long periods for a bus, and then jostle with others for a spot inside.
Even getting off was another contest. Once inside, most people would have to stand, being not able to find a seat. And if someone were lucky enough to get a seat, they would have to spend time beside someone who often smelled terrible (due to the extreme heat) or invaded their private space, because of how intensely crowded it was. There were also other issues.
A mass transit system was a distant dream at the time, and it still is – Dhaka will not be getting MRT trains before 2022. To put it mildly, getting around Dhaka was a nightmare. And this was the reality for the people of Dhaka for a long time.
Pathao enters the scene.
Pathao entered the transportation game in 2016. With the app, people could easily place a request with their destination, which nearby riders could accept. On average, a rider took less than seven minutes to arrive at the passenger's location. Compare this with the 30 minutes it took to get a ride on a CNG.
The process of ride-sharing, on the other hand, was straightforward and intuitive. And things became even more streamlined over the years with increased adoption by the masses. Finding a ride now takes moments, and you no longer have to be uncertain about reaching your destination. Most importantly, with bike ride-sharing, Pathao enabled users to skip traffic jams and reach their destination on time.
Changing the game.
Our research shows that with Pathao, the average user reaches their home twice as fast. Pathao's ride-sharing reduces wasted time for daily commuting. People can now get more things done every day and at a much faster pace. As it stands, Pathao has brought a fundamental change in how people move around Dhaka and other metropolitan areas in Bangladesh.
People no longer have to deal with terrible CNG drivers. No longer do they have to keep hearing "no" from irritating, greedy drivers on the roads. Now, people can say "no" to them instead, taking sweet, sweet revenge. You also do not have to stand on the streets waiting for transport anymore. One click and your rider will meet you at your designated spot on the map. There is no trouble with setting destinations either, as our riders are directed to take passengers where they need to go without question.
Cashless Digital Bangladesh.
Another great thing Pathao has changed is the fact that you no longer have to rely on cash. You can simply head out with your phone in your hand and get a ride to your destination. Pathao has integrated multiple digital payment systems, letting users pay by credit or debit cards or mobile banking software, including Bkash and Upay. Payment takes only a few moments, and both parties can leave happy knowing they do not have to worry about carrying change any more. It has also enabled our drivers to have hassle-free transactions absolutely free of cost.
Travel is now safe.
Pathao has also made traveling throughout Dhaka much safer than before. The app only carries verified users – both riders and passengers. Pathao themselves check the rider's driving license and other documents. These steps help us stop fraudulent and other unacceptable activities on the platform.
Pathao also offers live tracking and location sharing with trusted friends and family members. Simply click the share location button in the app, and your friends and family will immediately get a notification with your live location. This way, Pathao stops any potential unwanted situations our passenger could face. The access to National Emergency Service number 999 is also an important inclusion.
On top of all this, Pathao also insures all rides in their platform. Now people can ride with peace of mind, knowing that even if anything goes wrong, they are cared for.
Moving Bangladesh Ahead.
Pathao has already fundamentally shifted the way we think about moving around in Dhaka. Pathao has made movement faster, more reliable, and much safer than before with innovative features as live location tracking and every-trip insurance. People can now get to their destinations on time and be more productive with the extra time they now save.
Pathao's ride-sharing service started with motorcycles. In a year, we added Pathao Cars. Now, the company is moving towards adding more forms of transportation under its wings. And with the upcoming addition of E-Commerce in its platform, Pathao is effectively turning into a one-app lifestyle solution platform. Pathao is here to Move Bangladesh to the future, the future the country and its people deserve. And we're tirelessly working towards that goal. The journey of Moving Bangladesh has only just begun.