Empowering Financial Flexibility: Introducing Pathao Advance that allows our Courier merchants to get paid for orders upfront!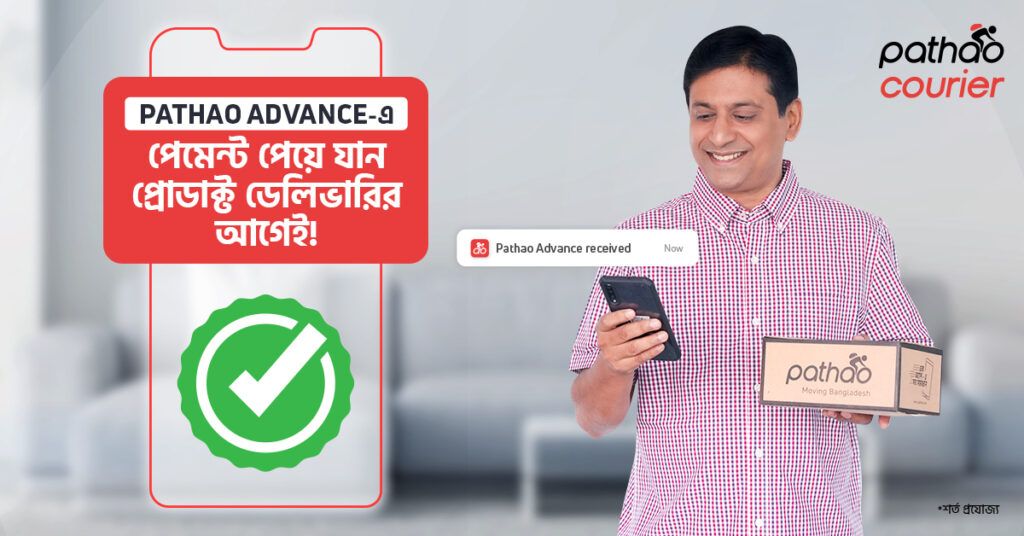 In today's fast-paced world, unexpected financial needs can come up. Imagine you suddenly get a lot of orders in your business or you need money right away to pay a bill. It can be tough if you don't have quick access to cash.
Without access to quick cash, your business can run into problems such as:
Unhappy customers: Let's say you get more orders than you expected, but you don't have extra money to handle them. So, you have to delay or cancel those orders, making your customers unhappy. They might leave bad reviews for your business.
Slowing down your business growth: Sometimes, you find out about an important trade fair or event at the last moment that could help your business grow. But you don't have the money to participate.
Most importantly, taking time away from letting you do what you love: Imagine finding a bill you forgot to pay or getting a bill that is higher than you expected. It's stressful and takes away time from focusing on your business and doing what you love.
At Pathao, we want our merchants to have control over their cash flow and spend more time doing what they love! This is why Pathao is introducing 'Advance', designed to meet more immediate funding needs for our Courier merchants.
With Advance, our Courier merchants can get paid for their picked up orders upfront, unlocking flexibility and a hassle-free payment experience!
Why take Advance:
Flexibility: You can get some extra money when you need by taking an Advance. You can also choose to get most of your money upfront everyday with recurring Advances.
Immediate payout: If a delivery is taking longer than expected, you don't need to worry. With Advance, you get paid right away, so there are no delayed payments.
Hassle-free repayment: When your orders are delivered and paid for by the customers, Pathao automatically collects the money you owe from the Cash on Delivery (COD) payments. So, you don't have to worry about paying us back separately1.
How does Advance work:
For eligible users, you will see the option to take an 'Advance' from the Merchant Panel.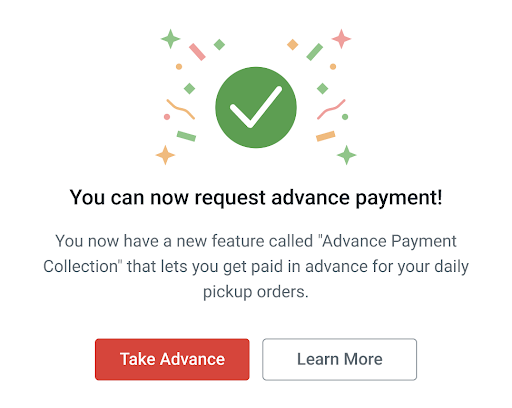 After you sign up, select the desired percentage of your orders you want an 'Advance' for and click 'Get Advance' on the days you want to get paid upfront on your orders!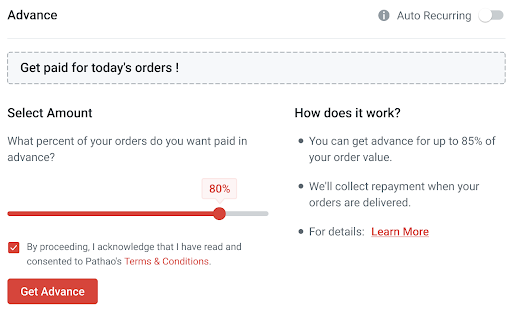 After our pickup agent collects your orders for the day, we'll provide you the 'Advance' for the approved amount up to your requested percentage net of our service fee.
Want to move your cash cycle forward and take Advance on your orders every day? Simply turn on the 'Auto Recurring' button on the top-right of the Advance tile on your Merchant Panel.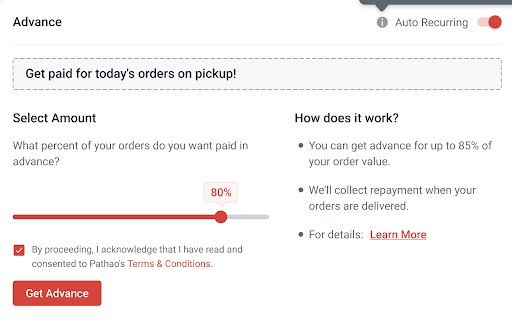 Pathao will get repaid for the Advance we provided when your orders are delivered and your customer pays us for the order! Simple!
At Pathao Courier, we believe in empowering our merchants and maximizing their flexibility. Pathao Advance is here to help our Courier merchants have more financial flexibility and make their payment experience hassle-free.
FAQs
What is Pathao Advance?
Pathao Advance is a special feature for merchants who use Pathao Courier. Normally, when a customer pays for an order upon delivery, Pathao Courier pays the merchant a few days later. But with Pathao Advance, merchants can get paid upfront for those orders when those orders are picked up by our agents.
How does it work?
When you place an order with Pathao Courier and take an Advance, you get paid right away for the order upon pickup. Pathao Courier pays out your collectable COD amount net of all fees including delivery fee, COD fee etc. as well as a service fee for Advance. When the order's recipient pays upon delivery, Pathao keeps it as repayment and the transaction is complete!
Why can't I take an Advance from my Merchant Panel?
Pathao Courier only offers Advance to our trusted merchants. We have certain criteria to determine which merchants are eligible. This enables us to sustainably offer Advance to our merchants long term. If you want access to the product, continue to be with Pathao Courier and get more of your orders delivered through us!
How can I take an Advance?
Merchants can request an Advance from the 'Advance' tile on the Merchant Panel. Simply select the percentage of your daily orders you want to get paid upfront and click 'Get Advance'. You can request an Advance for your daily orders before 10PM. If the request is approved, the money will be sent to the merchant's Pathao Courier payment method within 24 business hours.
Do you charge any fees for Advance?
Yes, there is a service fee of 2% for each Advance. Sometimes, Pathao Courier may offer discounts on this fee for some merchants at our discretion. 
I requested an Advance but I didn't receive it. Why wasn't my request approved?
There could be different reasons why an Advance request is denied. It could be because there was something unusual or suspicious about the request, or the merchant may have reached the maximum number of Advances allowed at that time. It could also be because the merchant already has outstanding Advances that are past due and need to be repaid before taking another one.
What happens if I received an Advance on an order and then the order is returned?
If an order that was paid in Advance gets returned, it won't cause any issues for the merchant's Pathao Courier account. Pathao Courier will simply collect the money owed (i.e., the past due balance) from the merchant's future orders until the past due Advance is repaid.
What does it mean to make Advance 'Auto-recurring'?
Merchants can choose to make their Advance requests 'Auto-recurring.' This means you can automatically get an Advance every day for a certain percentage of your orders. If you no longer want to receive an Advance daily, simply turn off the 'Auto Recurring' toggle from the Merchant Panel.
How can I check the repayments remaining on Advances and which Advances have been repaid?
Merchants can check their outstanding Advances on the 'Dashboard' tab of their Merchant Panel. For a more detailed view, you can look at the 'All Advances' table in the 'Invoice' tab.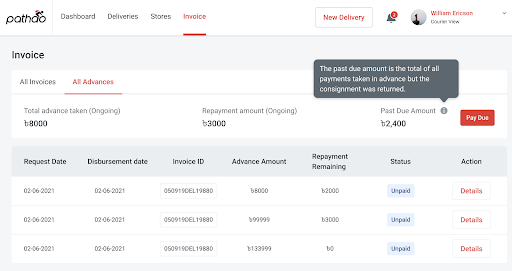 I still need to contact support. How can I reach out?
You can reach us through email at [email protected] or call us at 09610003030. We're open 24/7, so do not hesitate to get in touch!