Up to 20% discount on Pathao Shop!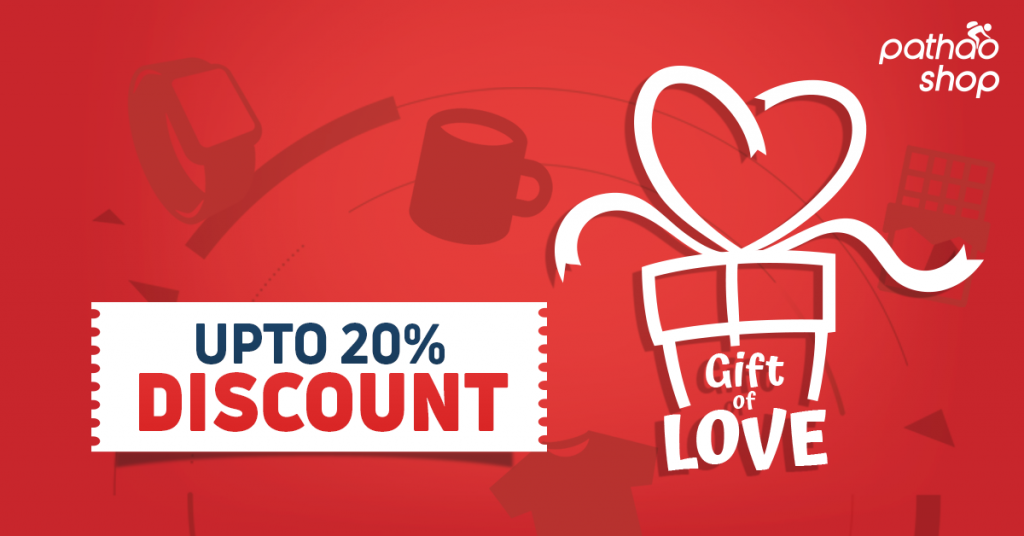 It's the celebration of love and romance that comes around on February the 14th of every year, a day when restaurants are completely booked up and engagement photos flood your social media feeds! Whether you hate it or love it, there is no denying the fact that a huge chunk of our february highlights are filled with frilly notes, red confetti and cute red parcels.
With only two weeks left to choose the perfect gift for your significant other,it is the apt time to go haywire searching up for the most apt token of appreciation!
Pathao Shop has upto 20% discount going on for the following gifts for you to purchase only with a simple click!
Here are a few gift ideas for you that are available on Pathao Shop:
Explosion Boxes – Nothing speaks romance more than chocolates. It is classic, timeless and literally the sweetest gesture ever. They are assortments of the most delicious chocolates including classics like Dairy Milk, Kitkats etc. Need a last minute solution to the ordeal of gift giving? Order the explosion boxes from CHIRKUT available at Pathao shop.  
Matching Mr and Mrs Cotton Tshirts for Couples – Available in both black and white, you can't go wrong with matching t-shirts. Matching Tees are wholesome with just the right amount of cute sprinkled around. It is the perfect addition to having a flawless Valentine's celebration. Order from Too Tempted available only at Pathao Shop. 
You are somebody's reason to smile Home Lamp- Want to "light up" your partner's life? Gift them a ball of warmth with this "You are somebody's reason to smile" lamp, available at Saffron Sunlight in Pathao Shop. Don't forget to inscribe the iconic Coldplay lyrics to the note attached! 
 I love you to the moon and back Home Lamp- Another home lamp option with a more classic anecdote for expression of love and affection is also available at Pathao Shop's Saffronn Sunlight . Grab it quick! 
King Queen Couple Coffee Mug Set – Need cute crockeries to liven up the space? We have you covered! Order these matching King Queen or "My heart is where you are" Coffee Mug Sets from  BD MUG HOUSE and CANOPUS at Pathao Shop for your partners this Valentine's day; they will appreciate it just like a quick caffeine fix! 
Speaking of Matching Accessories, why not go for an option a little more utilitarian. Shop for matching pairs of black watches at WATCH TAG, Pathao Shop and get a clean and minimal look this Valentines Day. 
Undeniably the cutest one in this list are the teddy bear plush toys available at Pathao Shop! Plush toys are cute, affordable and they fall in line with the essence of Valentines Day. Grab your favorite one now from BD ONLINE TEDDY in Pathao Shop. 
So what are you waiting for? Make your loved ones feel special this Valentine's Day with Pathao Shop!