Hey there ICC World Cup fans! Brace yourselves for the most complete Cricket World Cup journey of your life!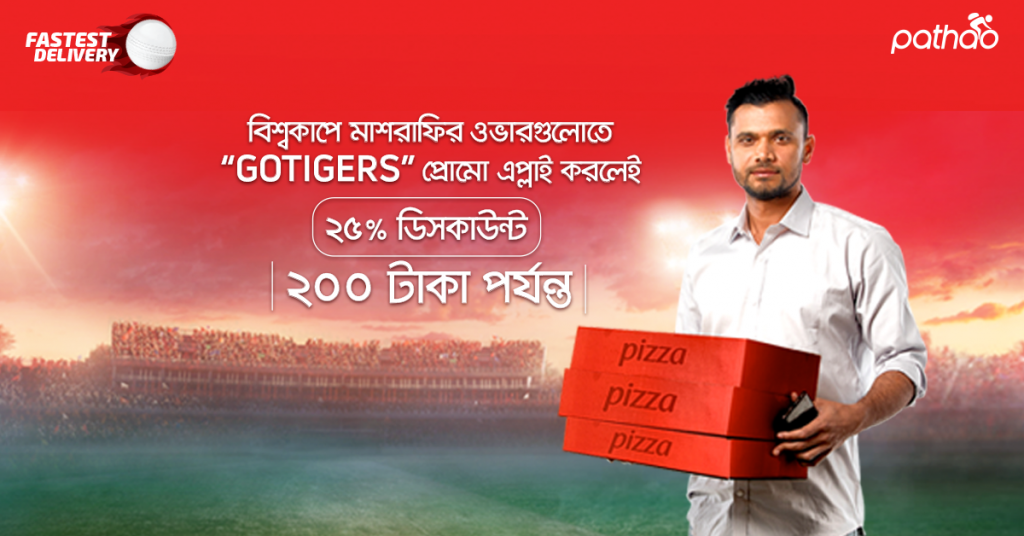 Apply promo "GOTIGERS" for a massive 25% discount upto 200TK from the special "GOTIGERS" Collection everytime Mashrafe bowls during when Bangladesh plays!
Here at Pathao, we want to make your ICC World Cup experience even sweeter – so here's a gift for all our hungry fans out there:
Apply promo code "GOTIGERS" for 25% off upto 200TK from "GOTIGERS" Collection each time Mashrafe starts to bowl during his overs. The #FastestDelivery just got sweeter with every Fast Delivery from our captain Mashrafe Bin Mortaza!

How does it work:
Apply Promo "GOTIGERS"
Wait in anticipation for Mashrafe to start his bowling over during the time when Bangladesh has a match during the ICC World Cup 2019
Start ordering with promo "GOTIGERS" from "GOTIGERS" collection to enjoy 25% off upto 200TK
Enjoy your food and support Bangladesh to victory
Please Note: GOTIGERS promo code can only be used from GOTIGERS collection during only when Mashrafe bowls during his over. GOTIGERS special discount of 25% off upto 200TK will only be active during this period.

Terms and Conditions:
GOTIGERS promo will activate only during when Mashrafe bowls. It will not be available before or after Mashrafe completes his over, so be extra cautious about your ordering time
The GOTIGERS special promo can only be availed from GOTIGERS Collection. The promo will only be valid for restaurants within this collection
Pathao holds the right to change their policy without any notice
Pathao has the right to disqualify/suspend anyone who uses unfair means
Other terms and conditions apply to this offer