Pathao Points: Earn. Redeem. Enjoy!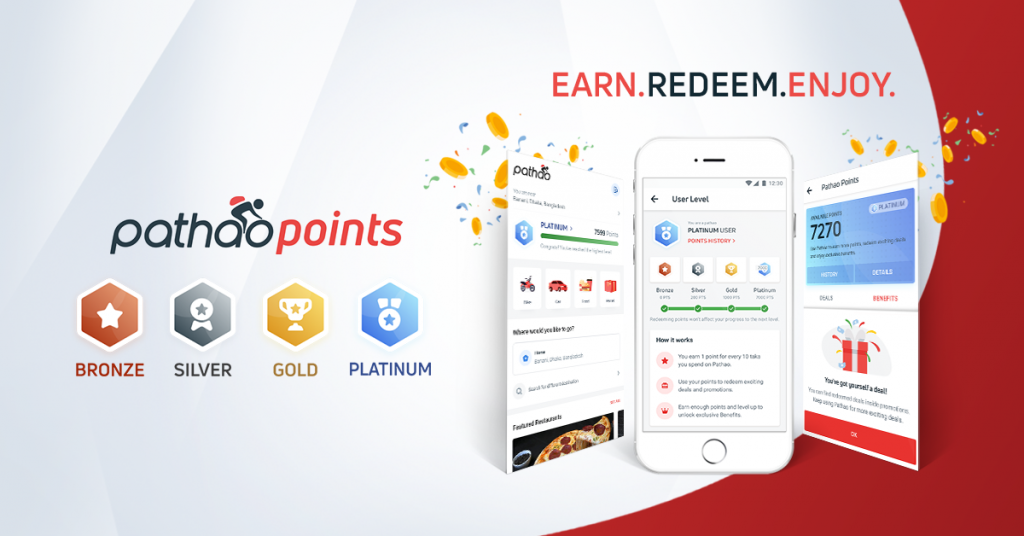 Welcome to Pathao Points! Pathao Points is a unique program that lets our customers earn points every time they use Pathao for rides or food deliveries. Along the way, these points unlock exclusive and exciting benefits for Pathao Points members.
Once you're in this exciting program, you'll start earning points for using the Pathao Platform. As a Pathao Points user, you will receive benefits such as exciting deal packages and premium services. The more you use Pathao, the more points you will get and higher the benefits you will earn.
How to Join
Update your app to join Pathao Points. You'll be added to Pathao Points at no extra cost. Initially all users will be in the Bronze tier. Time to start earning points!
Once you have 200 points, you'll automatically advance from Bronze to Silver. After 1,000 points you'll proceed to Gold membership. And finally, at 7,000 points, you'll advance to our highest tier, Platinum.
How to earn Points:
For every 10 taka spent on the Pathao platform, Pathao Points members will receive one point. This includes Pathao Bike and Car Rides and also food orders from Pathao Food.
The Benefits
Pathao Points will have four membership tiers. Bronze, Silver, Gold and the highest tier, Platinum. Each tier has benefits and attractive offers and bonuses!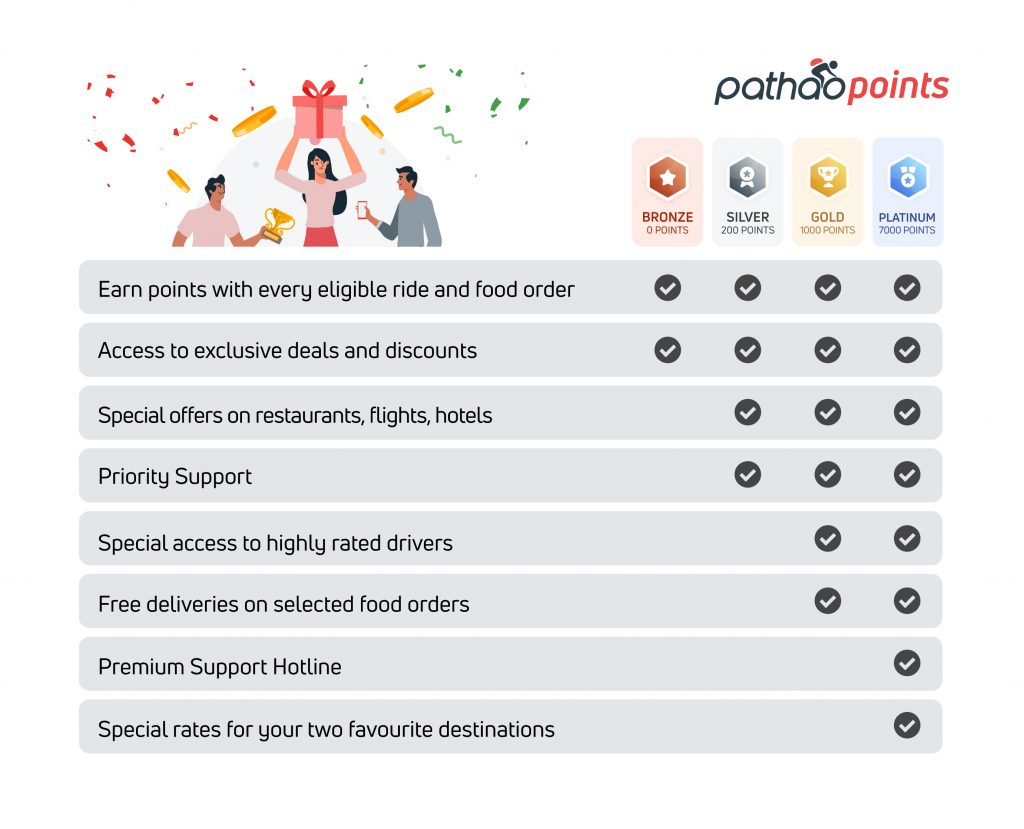 Pathao Points Membership Tiers
Bronze tier:
When new users join the Pathao Points program, they will get a Bronze membership.
In this tier, users will earn points for each Ride they take with Pathao (Bikes and Cars) and for each Pathao Food order. For each taka spent on Rides and Food, users will receive one point. Users will also get to spend points to get exclusive discounts on Rides and Food.
Silver tier:
After reaching 200 points, users will progress to the Silver tier membership.
Silver users will get access to all Bronze discounts and even more rewards and options. Coming soon in the future are special offers from Pathao's partner restaurants, hotels and flights for our Silver and higher tiers. Not only that, Silver members will get Priority Support from Pathao's customer service in the coming days.
Gold tier:
After accumulating 1000 points, Pathao Points members will be advanced to the Gold tier.
In this category, our valued users will get all the benefits from Bronze and Silver memberships, plus more! Coming soon is an exclusive feature for Gold members and higher, that will give users priority access to Pathao's highest-rated and most-skilled drivers. Not only that, Gold members will also get Free Delivery on selected food orders every month!
Platinum tier:
Platinum is Pathao Points highest and most prestigious tier.
It has all the benefits of all previous tiers, and with that comes price protection to two favourite destinations. This feature allows users to choose their most frequently used destinations, and their fares won't be affected by rush-hour. This special feature is primarily aimed at users who use Pathao to commute to and from work or travels to a few destinations often.
Platinum users will also get premium customer support.
How to Redeem Deals:
Open the Pathao App and tap on Points Widget on the Home screen.
Check the deal details and tap the red button to redeem the deals.
Congratulations! You have got an exciting deal.
How to Avail Benefits:
Avail the specific service from our partners.
Open the Pathao App and tap on Points Widget on the Home Screen.
During billing or preparation of invoice, show your Pathao Points Card to the counter or corresponding representative.
Congratulations! You have availed an Exclusive benefit package from Pathao Points.