Pathao is going to make this week special for our valuable customers of Chattogram with a BOGO Food Blast!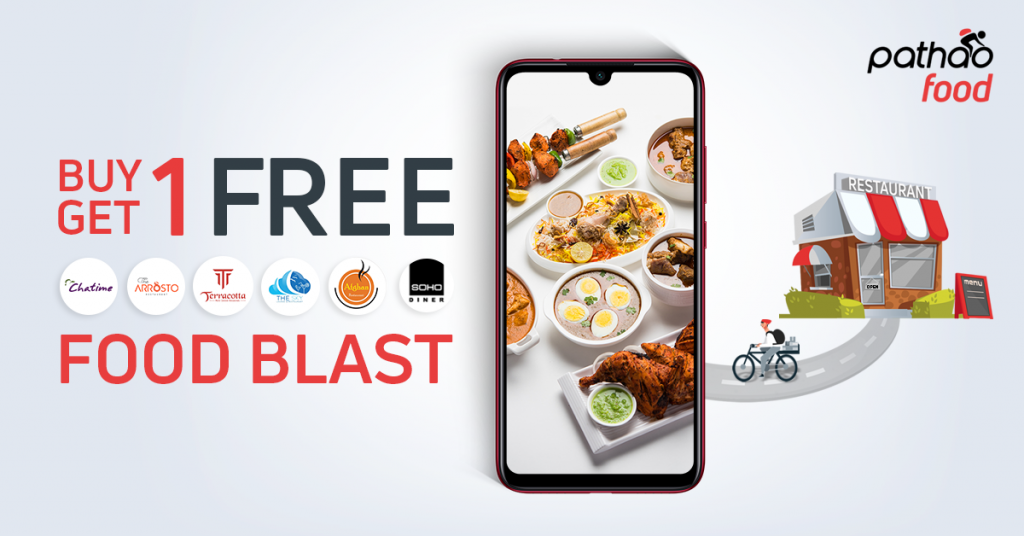 Enjoy the week with Buy One Get One offers from your favourite restaurants in Chattogram from Pathao Food.

This special offer will be available from 24th October to 31st October 2019 for all Pathao Food users in Chattogram.

Restaurants participating in this BOGO offer are:

The Arrosto
BOGO on all pasta section

Soho Diner
BOGO on 12" Pizza item

Chatime
BOGO on selected items
1. Pearl milk tea.
2. Taro milk tea.
3. Watermelon mousse.
4. Olong tea mousse.
5. Olong tea latte.
6. Watermelon with fresh milk.
7. Passion fruit slush.
8. Passion fruit QQ.
9. Grapefruit QQ.
10. Lychee black tea.

The Sky lounge & restaurant
BOGO only on below items:
-Chicago Spicy Pizza(11″)
-Six season pizza.(13″)
-Hell's Pizza (8″)

Terracotta Chittagong
BOGO on Dosa items

Terracotta Tru
BOGO on all pizzas & burgers

Afghan Restaurant
BOGO on South Indian Section & Chowmeins

Don't forget to enjoy the week with Pathao's BOGO Food Blast! Order from these restaurants from Pathao Food to enjoy the Buy One Get One offer throughout the week.

Terms and conditions apply: Please note these BOGO offers will only be available for users who are nearby these restaurants.