Ekshathe Moving Bangladesh – Meet Mashrafe, Win Autographed Goodies & More!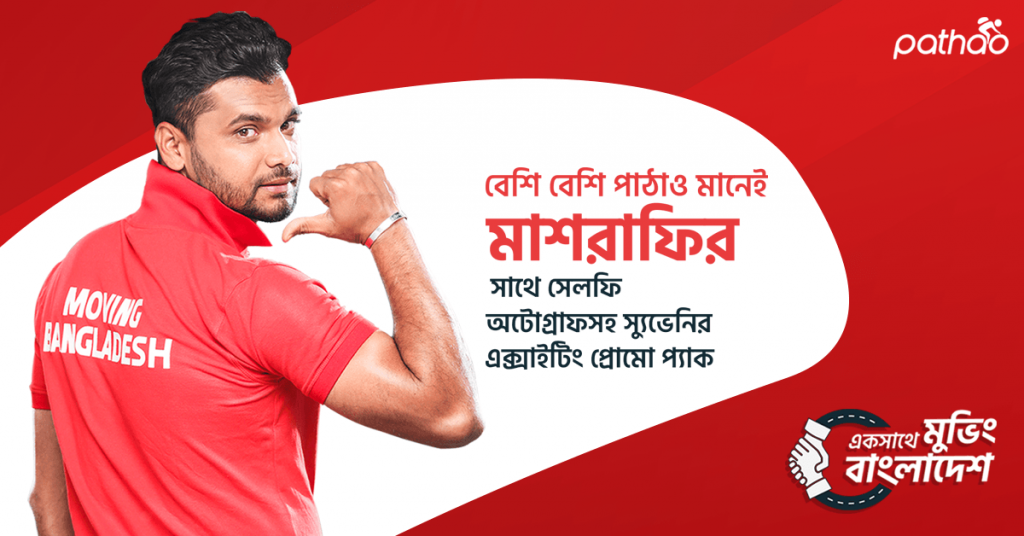 TIMELINE EXTENDED: We listened to your requests and extended the timeline of the contest till 14th April 2019!
Want to meet Cricket Legend Mashrafe Mortaza? How about exclusive merchandise signed by Mashrafe himself or bike, car and food promo discount worth 6,000 TK each?!
Introducing Pathao's "Ekshathe Moving Bangladesh" contest. Win this contest & get gifts that give you exclusive bragging rights over everyone you know. Just reach the following targets within 14 April to be eligible to win exclusive gifts only from Pathao.
Targets
Complete your targets within 14 April, 2019 to be eligible to win.
Complete at least 30 Pathao Bike rides
Complete at least 30 Pathao Car Plus rides
Complete at least 30 Pathao Food orders
Reward Structure
12 top users will be selected as winners from this contest. Once the targets are reached, following rewards will be eligible:
Top 3 winners get to meet Mashrafe Mortaza and win signed merchandise as well as Pathao Bike, Car Plus & Food promo discounts worth total of 18,000 TK (6000 TK per winner/person)
The remaining 9 winners get Mashrafe signed merchandise and promo discounts worth total of 54,000 TK (6000 TK per winner/person)
Only top users i.e. users with the most number of bike/car rides/food orders will be eligible to win once they have reached their targets so start using Pathao now!
Terms and Conditions
Fraudulent Bike trips/Car Plus trips/Food orders will not be tolerated. Users and winners even will be disqualified from competition if found fraudulent
Pathao holds the right to change and modify contest policies such as target, reward structure at any time
This target and reward structure is applicable only for Dhaka and Chattogram. For Sylhet, Pathao Car Plus target and reward structure will not apply
Learn more about Pathao and it's services by visiting Pathao's Website.