Don't let the rain hold you back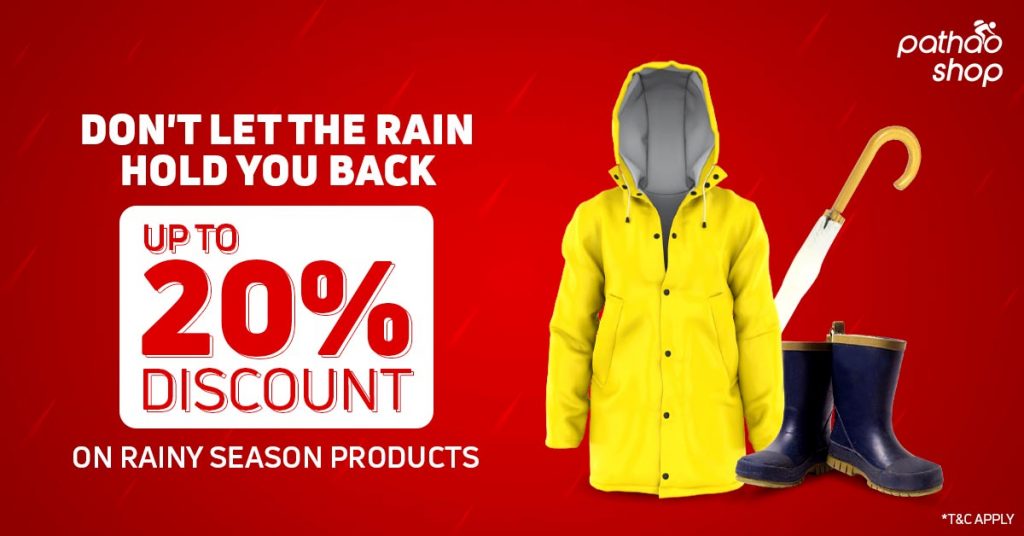 Monsoon season or more casually addressed as the rainy season can be a blessing with its windy, chilly weather but most of the time it's a lot of muddy and water clogged streets. For most of us traveling in this unpredictable weather is a curse but being prepared for the worse is a way to move forward.
For starters, owning small, compact umbrellas that can easily fit in your bag can help you be more prepared for the unexpected rain. Since these umbrellas take up less space you can carry them around everywhere and can also be used during summer. Check out these small, portable umbrellas in Pathao Shop.
If you are someone who doesn't like to carry around umbrellas or simply out of the fear of losing too many in the past. Raincoats are a more sustainable option for you, much like umbrellas these are also compact and easy to carry. Fitting on a raincoat while it's raining can protect your entire outfit from the rain and mud. These raincoats are designed to be wind resistant, especially for someone who rides their own vehicle. Check out these wind resistant, portable raincoats in Pathao Shop.
Along with umbrellas and raincoats, owning a pair of gumboots is a wise option while moving in water clogged areas in Dhaka. Lastly, to carry these rain friendly products, Pathao Shop has water resistant backpacks to carry in the rainy season which will not spoil your belongings in the rain. Check out all these rainy season essentials in Pathao Shop.
You can get all these with up to 20% OFF! Order now and have a peaceful rainy day.