Pathao Press
Our press release, coverage and press kit

Pathao Press
December 6, 2018
Mashrafe Moving Bangladesh!
Mashrafe Bin Mortaza Becomes The Brand Ambassador Of Pathao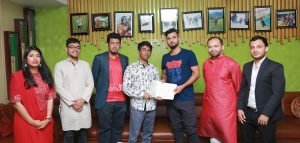 Pathao, the country's largest digital platform, announced today that legendary cricketer and the captain of Bangladesh's ODI cricket team, Mashrafe Bin Mortaza, will serve as its brand ambassador.
The new partnership with Mashrafe Bin Mortaza comes amidst Pathao's continued efforts in empowering communities, transforming the lives of millions and thus moving Bangladesh.
Commenting on the announcement, Hussain M Elius, the CEO of Pathao, said, "We are thrilled to have Mashrafe as Pathao's brand ambassador. He has lifted the image of Bangladesh amongst millions at home and abroad, time and again. His unconditional love for the country is evident in every step he takes. As a home grown startup, we believe his inspiration and perseverance will help us improve Bangladesh's digital landscape. He is an essential part of our quest of Moving Bangladesh.''
Commenting on his alliance with Pathao, Bangladesh Cricket Team's captain in ODI format Mashrafe Bin Mortaza said, "I have seen Pathao take on the challenge of Moving Bangladesh and grow beyond the boundaries of our country. Being a Bangladeshi player, through unwavering determination, Pathao is allowing millions to save time and money, empowering communities to grow. I believe, together, it is possible for us to bowl out barriers that lie in the path towards a brighter future."
Pathao is looking to increase digital penetration throughout the country and provide opportunities for thousands of riders, captains and cyclists in Dhaka, Chittagong, Sylhet, Narayanganj and Gazipur. With Mashrafe now on board, Pathao hopes to bring all their services to the masses so that they too can transform their lives.