EPIC 50% Cashback upto 70TK with bKash Digital Payments!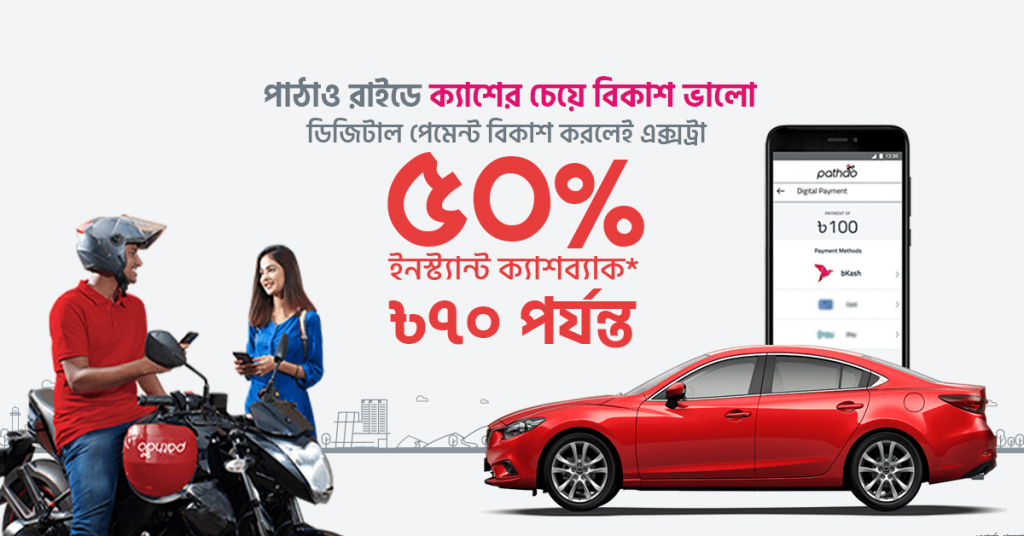 Cashback has increased once again! You often get discounts on your Pathao ride, but have you ever received any additional cashback on top of that? Well, pay your Pathao bike or car fare with bKash in Digital Payment and get an instant 50% cashback discount, upto 70 TK!
Just make sure to update your Pathao app to receive this offer. Not only is your Pathao ride getting more affordable, but riders & captains are also getting a chance to earn more. So, what are you waiting for? Request now!
How to use bKash for Digital Payments: 
Once you end your trip, click on Digital Payment as shown below

Under Payment Methods, select bKash to pay your bike/ car fare
If you run into any issues when paying via bKash, just update your Pathao app and you'll be good to go. For further instructions on payment processes and how bKash payment works, click HERE
Terms & Conditions:
Bkash Payment discounts are only valid for up to 4 bike and/or car trips per day

You must update your Pathao app (to version 3.4.2 or above) before using bKash in Digital Payments

You will only receive this cashback/discount offer when paying via bKash in Digital Payments. Discounts are 50% off upto 70TK on each bike/car ride
This cashback/discount offer is only applicable for Pathao bike and/or car rides
This offer is applicable for Dhaka, Chattogram & Sylhet –  bike and car users only
Only bKash payments via Digital Payment will get you discounts. Other digital payment methods will not get you the above mentioned 50% discount/cashback offer